Department of Sport, Arts and Culture Language Bursary
Applications for 2024 will be available again from 1 June 2024.
The 2023 applications for the Department of Sport, Arts and Culture language bursary are now open. The DSAC aims to financially contribute to students of language studies in order to help develop much needed language skills within the South African context. If you think your studies are related to this focus, you are encouraged to apply for this bursary. The bursary applications are open to all full-time undergraduates, and full-time and part-time Honours and MA students of language studies at the North-West University.
The application form is available as a web-based fill-in form on this page. The form is therefore not downloadable. Upon successful completion and submission of your form, the application will automatically be sent to the bursary administrator. You will be expected to upload additional documentation when completing your application. You will also be requested to submit your academic record at a later stage, when these reports are finalised.
For any queries relating to the 2023 DSAC language bursary or the application process, please contact Lizelle Fourie at13266241@nwu.ac.za
Overview and instructions
Please carefully read through the information and instructions before completing your application:
Bursary requirements
You have to be registered for a BA, BA Hons or MA programme at NWU in 2023
Relevant subject areas for consideration are Language Practice, Setswana, Sesotho, Afrikaans, English, South African Sign Language and Language Technology
You have to achieve 60% in one of the relevant language subject areas
Honours students should take at least two linguistic-based modules
Postgraduate students' topics should be linguistics-based
Supporting documentation
The following supporting documentation is needed in order to completely process your application.
A certified copy of your ID (not older than three months)
A copy of your NWU 2023 proof of registration
Complete tertiary academic record
Progress report signed by supervisor (this applies to MA students only)
*DO NOT submit your matric certificate
For your online application, you will only need to upload these two supporting documents:
A certified copy of your ID (not older than three months)
A copy of your NWU 2023 proof of registration
The tertiary academic record will be requested from applicants once all first semester marks have been finalised on the university's system. You will be contacted personally to submit this document.  You do not have to upload it upon completing your application.
The progress report for postgraduate students will be sent to MA applicants for completion by their supervisor.
 
Certified ID copy requirements
The quality of your ID copy should be distinct and clear
The front and back of Smart card ID should appear on the copy
Have your certified copy professionally scanned and save as PDF on your device; no jpegs or any other image formats will be accepted
2023 proof of registration
Your 2023 proof of registration can be downloaded from the NWU website. You can follow the steps below on this page to download your own registration document. Alternatively, you may contact academic administration and request an electronic copy from them.
Upload the downloaded electronic copy to your application. Do not create a new image of this file and upload an image of the document.
Academic administration contact information
Potchefstroom Campus:
Telephone: 018 299 4201
e-mail: PC-Undergrad-Records@nwu.ac.za
Mahikeng Campus:
Telephone: 018 389 2268 / 018 389 2269
e-mail: MC-Examination@nwu.ac.za
Vanderbijlpark Campus:
Telephone: 016 910 3117/ 016 910 3344
e-mail: VC-Undergrad-Records@nwu.ac.za
If you are ready to complete your application, the form is available at the bottom of this page.
Downloading your 2023 proof of registration
As a registered student, you will be able to personally retrieve your 2023 proof of registration from the DIY Services, on the NWU website.  If you experience any difficulty, you may contact academic administration for further assistance.  To access your 2023 registration form, you can use the link http://diyservices.nwu.ac.za/af/student-360-service or, follow the steps below to access and download your academic documentation from the Student 360 application:
Step 1: Go to NWU webpage, scroll to bottom of the page and click on DIY Services.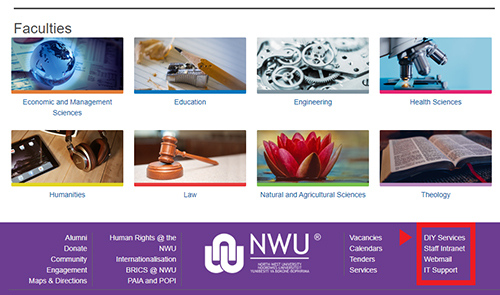 Step 2: Use your student number and eFundi password when prompted to log in. Select the Student 360 app.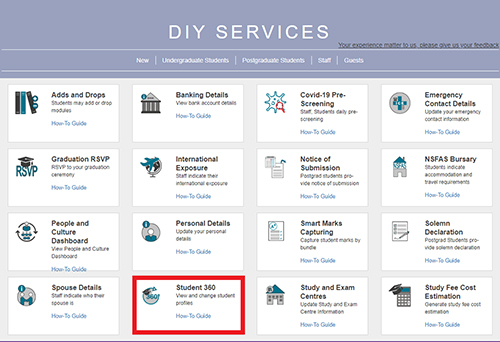 Step 3: Expand "formal documentation" drop-down menu and select "proof of registration".

Step 4: Select 2023 from the "qualification" menu, include module description and click submit. A copy will be downloaded to your device. Upload this document to your application form.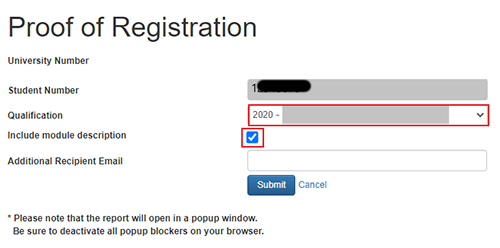 Application form
Please make sure to have all your relevant files ready when you start your application.  If you exit the application process before completion, you will have to restart your application.
All fields are mandatory and need to be completed in order to process your application.
You will receive a confirmation notification upon submission.